The Community
An "All- America City" and recognized as a "Most Livable Place to Live," the Hickory, N.C., area is located in the foothills of the Blue Ridge Mountains. The region boasts a long history of craftsmanship, and is perhaps best known as one of the top producing furniture communities in the nation.
Dotted with quaint downtowns that boast shopping, dining and recreation options, the region is becoming known for its growing number of vineyards and as a progressive and forward-thinking community that is investing $40 million to create greenspaces, including a Riverwalk, for residents and visitors to enjoy.
The schools are well regarded and include a range of educational options. Lenoir-Rhyne University is located in Hickory, and other universities nearby include Appalachian State University , Davidson, Wake Forest University, UNC-Asheville, UNC-Charlotte, and Gardner-Webb University.
Recreation
The vibrant region near the mountains offers close proximity to a number of cities in North Carolina, and a wealth of recreational and cultural opportunities. Located an hour from Charlotte, Asheville, Winston-Salem and the Blue Ridge Parkway, Hickory has a temperate climate and wonderful natural resources, including Lake Hickory and the nearby Blue Ridge Mountains, which includes the pristine Blue Ridge Parkway.
The area's cultural centers include the SALT Block (Catawba Science Center, Hickory Choral Society, Hickory Museum of Art, United Arts Council of Catawba County, Western Piedmont Symphony).The Hickory Crawdads, a Class A South Atlantic League affiliate of the Texas Rangers, is a popular way to enjoy the nation's favorite pastime. Hickory is also home to the Hickory Motor Speedway, which is nationally known as the Birthplace of the NASCAR Stars, a planetarium and numerous musical venues.
Charlotte
Referred to as the beautiful "Queen City," Charlotte is a bustling metropolis located within 60 miles of Hickory. As a major U.S. financial enter, Charlotte continues to grow and attract visitors looking for entertainment, arts, professional sports and recreation. Its many notable attractions include the Carolina Panthers of the National Football League, the Charlotte Hornets of the National Basketball Association, the Charlotte Independence of the United Soccer League, two NASCAR Sprint Cupraces and the NASCAR All-Star Race, the Charlotte Ballet, Carowinds amusement park and the U.S. National Whitewater Center.
Asheville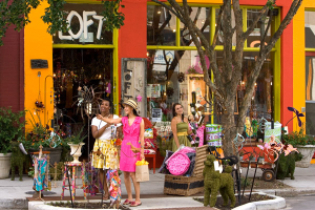 The eclectic town of Asheville is within 80 miles of Hickory. Located along western North Carolina's Blue Ridge Mountains, Asheville features unparalleled views and has a distinct mountain vibe. The city inspires artists, a full spectrum of innovative musicians and culinary foodtopians. Its numerous galleries spotlight the region's rich history. Attractions include the Biltmore Estate, a true American treasure built by George Vanderbilt in 1895 and Thomas Wolfe's boyhood home. Its gorgeous landscapes are perfect for hiking and recreation.
Blowing Rock
From the unmatched, far-reaching views along the Blue Ridge Parkway, to the quaint storybook mountain village, Blowing Rock, North Carolina is truly deserving of the title: "Crown of the Blue Ridge." Located within 50 miles of Hickory, you'll find popular family attractions including Tweetsie Railroad and The Blowing Rock, a plethora of unique downtown shops and outlets, and outdoor adventure ranging from hiking and biking to spelunking and bouldering. It's a venue for adventure, but also a place for ultimate relaxation. Indulge in a spa treatment, sample scrumptious vittles at our award-winning restaurants, or enjoy the hospitality at its local inns.